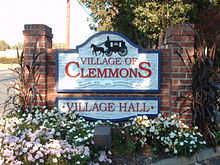 If you want to discover the southern charm of a small town, but with the modern amenities of a growing and thriving community look no further than the Village of Clemmons. Incorporated as a municipality in December 1986, Clemmons has an ideal location just 10 miles southwest of Winston Salem and encompasses 12 square miles. Because of its close proximity to Winston Salem and the many housing options and price points, it was only natural for the town to become a thriving bedroom community for people working in Winston Salem, High Point and Greensboro. The village offers a strong family oriented atmosphere and today approximately 18,650 residents proudly call it home. Most of the Clemmons area is located in Forsyth County, but a portion is located in Davidson County. Properties are highly sought after and home values are good. There are excellent schools, health facilities, and community services. There is ample shopping and restaurants along Clemmonsville Road.
Featured Clemmons Neighborhoods
Clemmons NC Homes for Sale by Price Range
Clemmons NC Newest Listings on the Market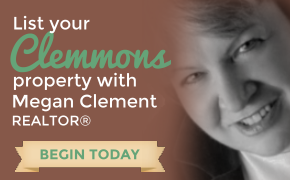 Rich in history and tradition, the area was founded in 1802 by Peter Clemmons, who moved his wife and 14 children to the area from Delaware. Although other settlers lived in the area at the time, it was Mr. Clemmons who developed it into a community. His house is still located west of the United Methodist Church on Clemmons Road. West of his home, he built the first bridge across the Yadkin River. Later, Edwin T. Clemmons, the great grandson of the town's founder owned several stage lines based in Clemmons. His last coach was his largest – a nine passenger Concord Coach that he named after his wife "Hattie Butner." This stagecoach has been restored and is displayed in the Village Hall. After the coming of the railroad in the 1870s, Edwin moved his stagecoach business to Asheville. Edwin returned to Clemmons shortly before he died in 1896. In his will, he left money for the construction of a Clemmons Moravian Church and a school. If you enjoy outdoor activities, Tanglewood Park consists of 1,100 acres of rolling hills, pastures and breathtaking forests. You can enjoy hiking, horseback riding, tennis courts, boating, mountain biking, the swimming pool complex, the Arboretum and the gardens. Tanglewood has 2 golf courses, The Championship Course and Reynolds Course. Wake Forest Baptist Medical Center recently expanded healthcare facilities in Clemmons with the construction of 2 medical buildings. Both primary care and specialty physicians have offices in the buildings to serve Clemmons residents.
Clemmons NC Homes for Sale
Clemmons NC Land for Sale